In industrial process equipments liquid-liquid mixtures are produced by essentially two different mechanisms. a) Mixing of the phases in either purpose built equipment, mechanical mixers, static mixers where pressure energy is applied to increase the surface free energy of the fluids to produce droplets, or in shear flow of the fluid mixture in pipes.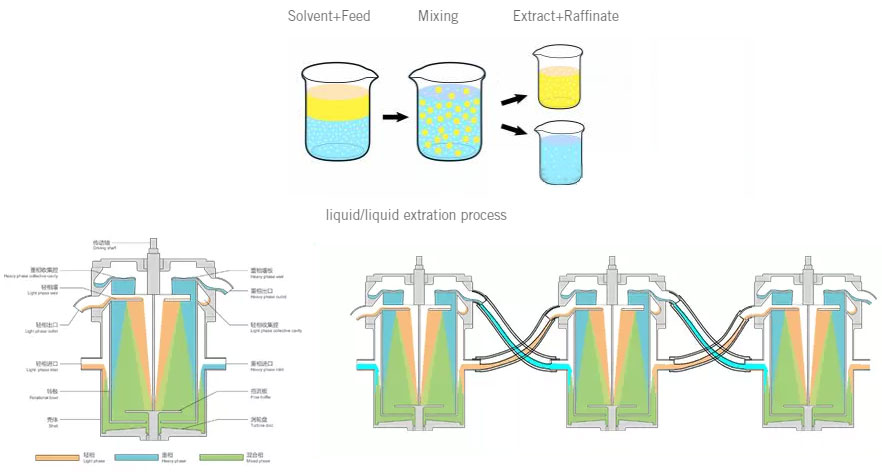 The cooling of a saturated liquid below the solution point so that the solute phase condenses out of solution resulting in the formation of a second liquid phase. This takes place frequently in storage tanks and in processes downstream of condensers or coolers.
When two phases are formed, this mixture is most often in the form of a dispersion (droplets of one phase distributed in the second or continuous phase). The mixture is thermodynamically unstable, meaning that given time, the droplets will separate out to form two bulk liquid phases. This takes place by droplets coalescing both with "near neighbour" droplets (drop-drop coalescence) and with the bulk phase as this forms and settles from the mixture (drop-interface coalescence).
Tiei Extraction design and manufacture of CWL-M serial centrifuges extractors has laboratory scale centrifuges,pilot scale centrifuges and multistage production centrifuges. Tiei Extraction focus on being Liquid–Liquid extraction Mixing And Separation Solution Provider.